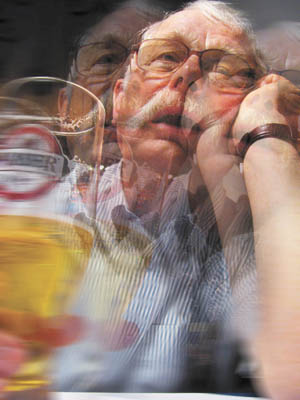 Addiction can tear apart lives – both the addict's and the lives of those closest to them. It can put a strain on family life, friendships, other relationships, and work. But there is a way through. Addicts can get help and be free from the power of their addiction.

Tom Pridham, a 'retired alcoholic' who has been sober for a considerable time, offers some insights into life as an alcoholic...
'The first thing to know is that alcoholics are incredibly capable of deluding themselves,' says Tom. 'When an alcoholic isn't ready to give up the drink, they will kid themselves that they don't have a problem. There was a guy in his mid-twenties who was waiting to be seen at an alcoholic unit. He picked up a leaflet, entitled "20 things that happen to alcoholics". After carefully reading it, he left – convinced he didn't have a problem.'

'His reasoning was that he'd only experienced 18 of those 20 things, so he must be okay. The two things he hadn't experienced were 'serious brain damage', and 'death' – either of which would have made it rather difficult for him to read the leaflet in the first place. I know that chap pretty well, because that guy was me.'

The alcoholic mind Tom was first admitted to hospital as a result of his drinking when he was 15, at a time when drunkenness among teenagers was an exception. In his mid-20s, he began to realise he had a problem, but he didn't get sober until later, despite attending numerous clinics, support meetings and treatment centres, mainly, he says, 'to get people off my back'.

Tom continues: 'There are several things people don't understand about the alcoholic mind. One definition of alcoholism is when you suffer the consequences of your drinking, and yet you still drink. Those consequences might be destroyed relationships, unemployment, serious health issues, fines and prison sentences, and yet you carry on. It's as if alcohol is a friend who occasionally lets you down, rather than something toxic which is slowly killing you.'

Tom roots his recovery firmly in his faith in God, although he didn't magically become sober when he became a Christian. It was a gradual recovery. Since getting sober, Tom has worked with alcoholics and other drug users in a rehabilitation centre. He poses eight questions to people who wonder if they have a problem with alcohol use (though, as Tom explains, these questions could equally apply to drug use):

- Do you lose time from work because of your drink or drug use?
- Do you tell yourself you can stop any time you want to, yet find you keep using even if you don't want to?
- Do you use alcohol or drugs to boost your self-confidence?
- Does it bother you if someone says you drink or use drugs too much?
- Have you ever had a 'blackout'?
- Have you ever tried to moderate the amount you drink or use?
- Does your alcohol or drug use cause problems at home?
- Have you ever felt your life would be better if you didn't drink or use drugs?


If you have answered "yes" to any of these questions, you may have a problem. Consider seeking professional help. Admitting you have a problem and seeking help can be the first step on the road to recovery. It could save your relationships, your marriage and your life.

Here are some places you can get help:

- Your GP

- Talk to Frank: 0800 77 66 00
www.talktofrank.com This government website offers free and confidential advice about drugs and can refer people on to local drugs services.

- Know the Scoreel: 0800 587 587 9
www.knowthescore.info Information and advice on drugs in Scotland.

- ADFAM: (020) 7553 7640
www.adfam.org.uk Provides publications and support groups.Mon-Fri 10am - 5pm

- Alcoholics Anonymous: 0845 769 7555
www.alcoholics-anonymous.org.uk For people with a drink problem.

- Al-Anon: (020) 7403 0888
(Helpline 10am-10pm, 365 days a year) www.al-anonuk.org.uk
Provides self-help family groups for people whose lives are affected by someone else's drinking.

Taken from Care for the Family's newsletter and used with permission.
www.careforthefamily.org.uk for more information about the work of the charity and the help they offer.