Real-life stories: In debt or with a gambling problem
Family In Debt With Little Food Flounder
When I left work to have my youngest child, things were tight but we thought we could manage. Then, six months later my husband lost his job and he found it really hard to get a new one because of his age. We got really behind with our bills.

I managed to ward off being evicted, but only by borrowing £900 from my ex father-in-law. I also got a small loan just to put food on the table for my 5 children. But I knew I couldn't repay them and that it was going to happen again.

I used to go days without any food, just telling the kids I had already eaten. I breastfed my baby until he was two because I know he wouldn't have got the vitamins he needed otherwise.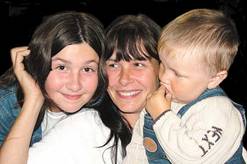 Our marriage hit rock bottom. We couldn't look each other in the eye or even be in the same room. In the end Eric bedded down on the sofa.

I couldn't tell him that I had borrowed money, or about the court letters, mortgage and the rest – it would have finished him. He was going to leave as he just couldn't cope anymore.

I went to the doctors as I was crying all the time. I needed to take care of the children, and I just wasn't functioning. Whilst there I picked up an 'Are you in Debt?' leaflet, got some pills to see me through, went home and made a call.

When I spoke to Bernie (CAP Selby) I felt like she was my best friend, she listened to me when I needed it most.

She visited us the next day and we handed over all our paperwork. She asked if she could pray for us and from that moment it felt as though God was on our side.

She came back a week later and told us what to pay and when, it was brilliant. The budget included a realistic amount to pay off our debts and we still had money to put food on the table and a small amount for savings – it was unreal.

Bernie asked if we wanted to go on a short break that CAP organised for some clients. The atmosphere was fantastic, relaxing, happy and fulfilling. We wanted to keep this feeling forever; we knew it was because God was there. The talks were very good and made us think, I gave my life to God almost straight away and Eric followed a few days later.

We now attend Kings Church in Selby, where we have been on an Alpha course and are looking forward to getting baptised. We have also been on a marriage course and our relationship grows stronger by the day. Our children are happier because we are happier as parents. We want to do all we can to help CAP, so we both volunteer as support workers for CAP, visiting other families who are in the same position as we were.

Janet & Eric

Story and picture by courtesy of ChallengeNewsline

Christians Against Poverty (CAP) is a national debt counselling charity with a network of 112 centres based in local churches. CAP offers hope and a solution to anyone in debt through its unique, in-depth service.

www.capuk.org